Beam Launcher for Bridge Beam
This Beam Launcher --Bridge Construction Bridge Launcher Erect Machine Manufacturer is used to lift the concrete beam or bridge on to the supports of highway construction. It including girder longitudinal flat car, girder components, support system, crane transverse, longitudinal shift system, hydraulic system, electric control system, etc.
Highway construction crane-beam launcher can be rail type and step type. Rail type beam launcher can be used for lifting Precast bridge beams, mainly is T shape beams. While the step type crane no need rails, without any pressure and damage to the highway/bridge precast beam because its own legs can be landed on the supports surface.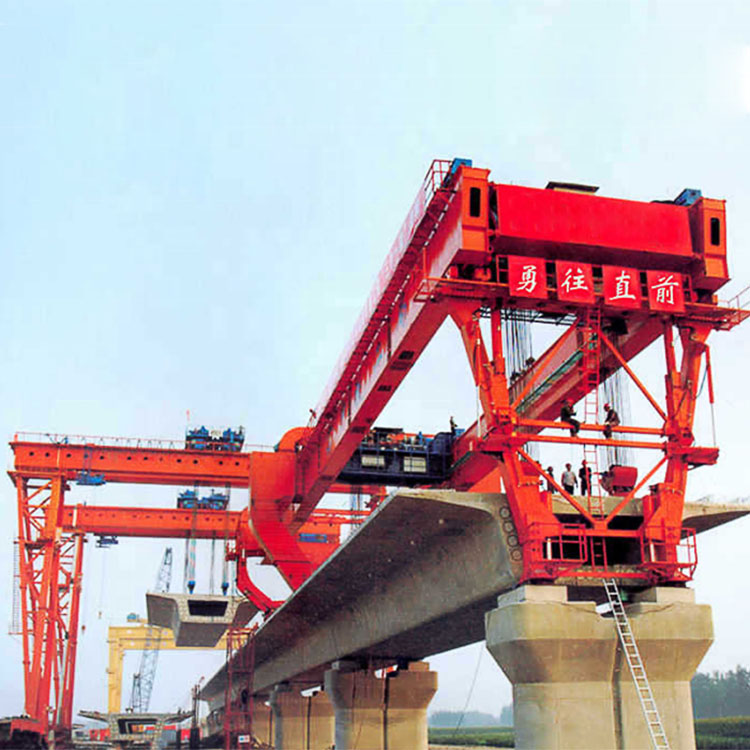 This beam launcher( bridge girder erection machine) not only suitable for horizontal erecting beams but also suitable for the cross curve erection, variable span length erection, continuous span beam, composite beam, continuous steel etc. Besides with good performance of bridge beam erection function, it also with system of simply supported girder erection and point lifting, own its high stability, high efficiency, safety and reliability, variable span easily adjustment and convenient operation system and etc.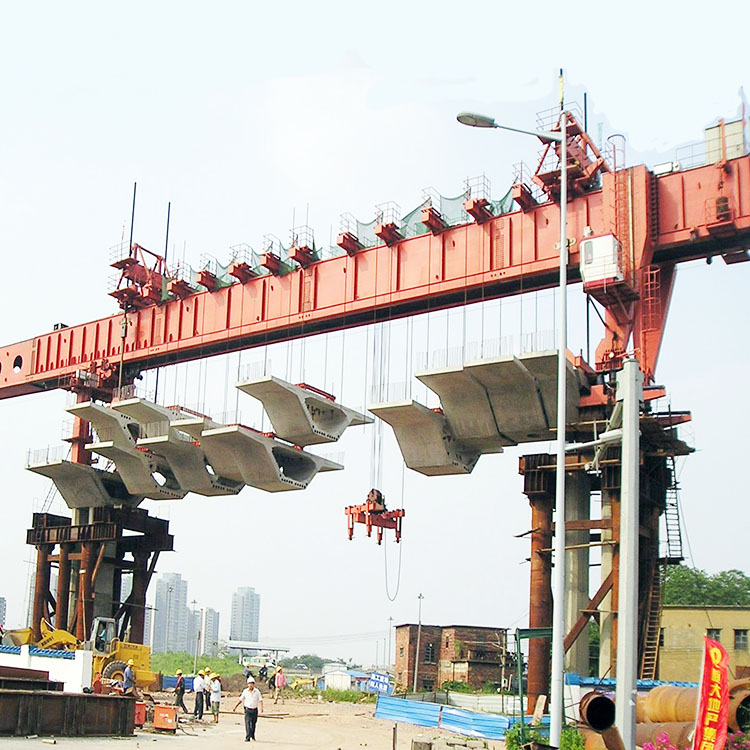 Feature:
▶ Triangular box type structure, its structure has strong strength, good high rigidity and strong wind resistance.
▶ Unique steel pin connection tech, convenient installation method
▶ Industrial customized, highly completely fit the local needs.
▶With function of adjusting the angle itself under situation of erecting a skew bridge or a curved bridge.
▶ Continuous beam with small center of gravity, convenient and reliable.
▶ It is widely used in highway and railway construction environment.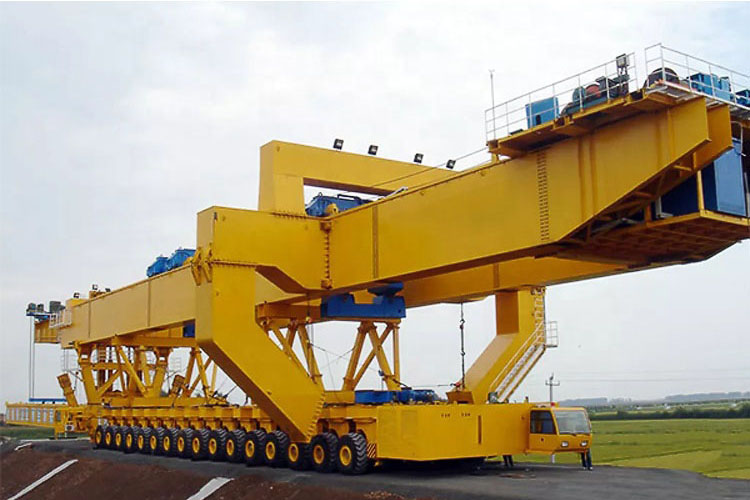 Design and Construction Rules
All the producing standards which are required for the cranes are FEM standard, DIN standard and Chinese National standard.
Europe Main National Standards
-- 89/392/EEC standard (93/68/EEC)
-- 91/368/EEC standard
-- 73/23/CEE standard
-- "EMC" standard 89/336/EEC
-- EN 60204-1
-- EN 292 mechanical safety
-- ISO 2141
-- ISO 2766
International Standards
-- June 9, 1993 / Sept. 22, 1993 notice
-- July 29, 1992, 92-765, 92-766, 92-767 notice
-- DIN 5684
-- DIN 15400; DIN 15401
-- NFE 26-010
-- NFE 26-030
Technical Standards
-- FEM 9.511 Mechanical group
-- FEM 9.661 Hoisting and traveling components size and quality standard
-- FEM 9.671 Wire rope quality standard
-- FEM 9.681 Travel motor choice
-- FEM 9.682 Hoisting motor choice
-- FEM 9.755 Electric hoisting equipment
-- FEM 9.811 Electric crane standard
-- FEM 9.901 Hoisting components design reference
-- IEC 34-1 Traveling and allocation performance
-- IEC 34-5 Protection grade standard
-- IEC 947-5-1 Low voltage equipment
China Main National Standards
Design rules for cranes GB/T 3811-2008
Safety rules for lifting appliances GB 6067-2010
Common crane technical condition GB 7592-87
Crane-Beam launcher for Bridge Beam