European Single Girder Overhead Crane
HDS Series Single Girder Overhead Crane
Lifting Capacity: 1~32t ( Customized )
Span: 7.5m~35m ( Customized )
Lifting Height:6~100m ( Customized )
Working Class: A5,A6

HDS European standard single girder bridge crane is our new designed crane for the low workshop and high lifting height requirements. There are many features for it such as: light self-weight, strong rigidity, outstanding design of its structure and so on. It could save your workshop space effectively. Its technology is advanced and design is according to international standard: DIN (Germany), FEM (Europe), and ISO (International). Its particular and special travelling structure can be your best choice in lifting demands.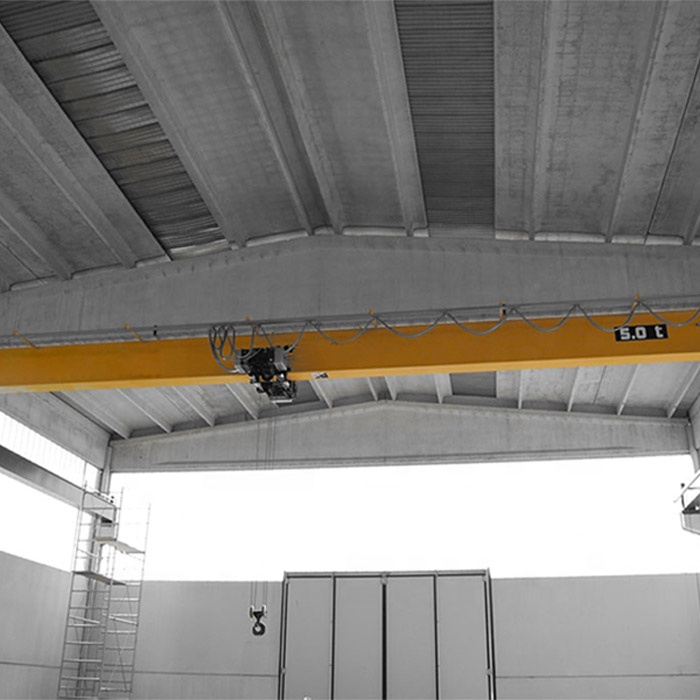 This type European overhead crane are double speeds, the lifting motor is double speed type, and need to noting is that the cross travelling motor and long travelling motor are controlled by frequency inverter. It could be widely used to handle materials in many workshop and warehouse, plant, warehouse, paper mill, manufacture processing, storage, industries site, workshop and other situations.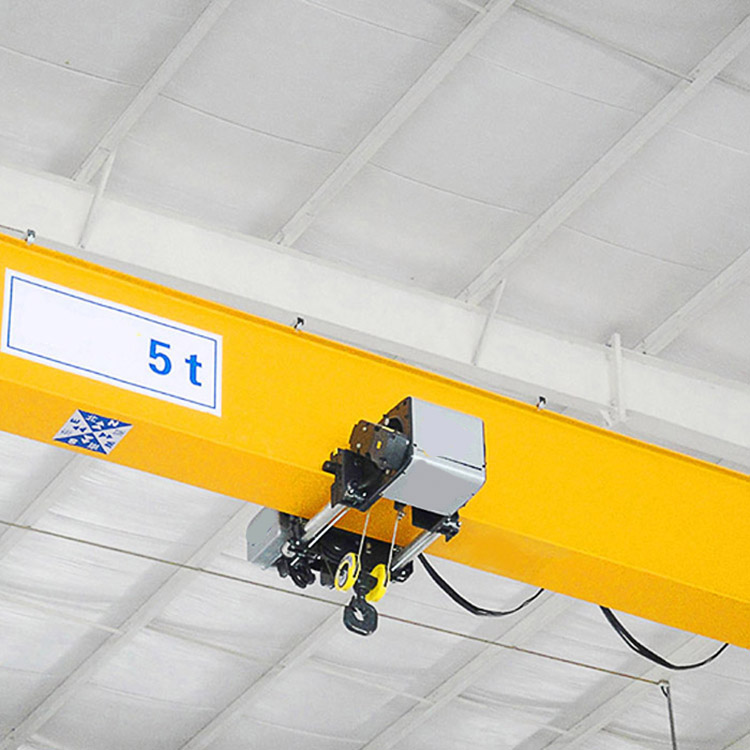 Design and Construction Rules
All the standards which are required for the cranes are the FEM standard, DIN standard and Chinese National standard.
Europe Main National Standards
-- 89/392/EEC standard (93/68/EEC)
-- 91/368/EEC standard
-- 73/23/CEE standard
-- "EMC" standard 89/336/EEC
-- EN 60204-1
-- EN 292 mechanical safety
-- ISO 2141
-- ISO 2766
International Standards
-- June 9, 1993 / Sept. 22, 1993 notice
-- July 29, 1992, 92-765, 92-766, 92-767 notice
-- DIN 5684
-- DIN 15400; DIN 15401
-- NFE 26-010
-- NFE 26-030
Technical Standards
-- FEM 9.511 Mechanical group
-- FEM 9.661 Hoisting and traveling components size and quality standard
-- FEM 9.671 Wire rope quality standard/Chains quality standard.
-- FEM 9.681 Travel motor choice
-- FEM 9.682 Hoisting motor choice
-- FEM 9.755 Electric hoisting equipment
-- FEM 9.811 Electric crane standard
-- FEM 9.901 Hoisting components design reference
-- IEC 34-1 Traveling and allocation performance
-- IEC 34-5 Protection grade standard
-- IEC 947-5-1 Low voltage equipment
China Main National Standards
Design rules for cranes GB/T 3811-2008
Safety rules for lifting appliances GB 6067-2010
Common crane technical condition GB 7592-87
Crane- European overhead traveling crane and portal bridge crane