Harbour port Crane
Rubber Tyre Mobile Harbour Port Container Gantry Crane For Sales With Ce Approved
Lifting Capacity: 5~800t ( Customized )
Span: 7.5m~35m ( Customized )
Lifting Height:6~100m ( Customized )
Working Class: A5,A6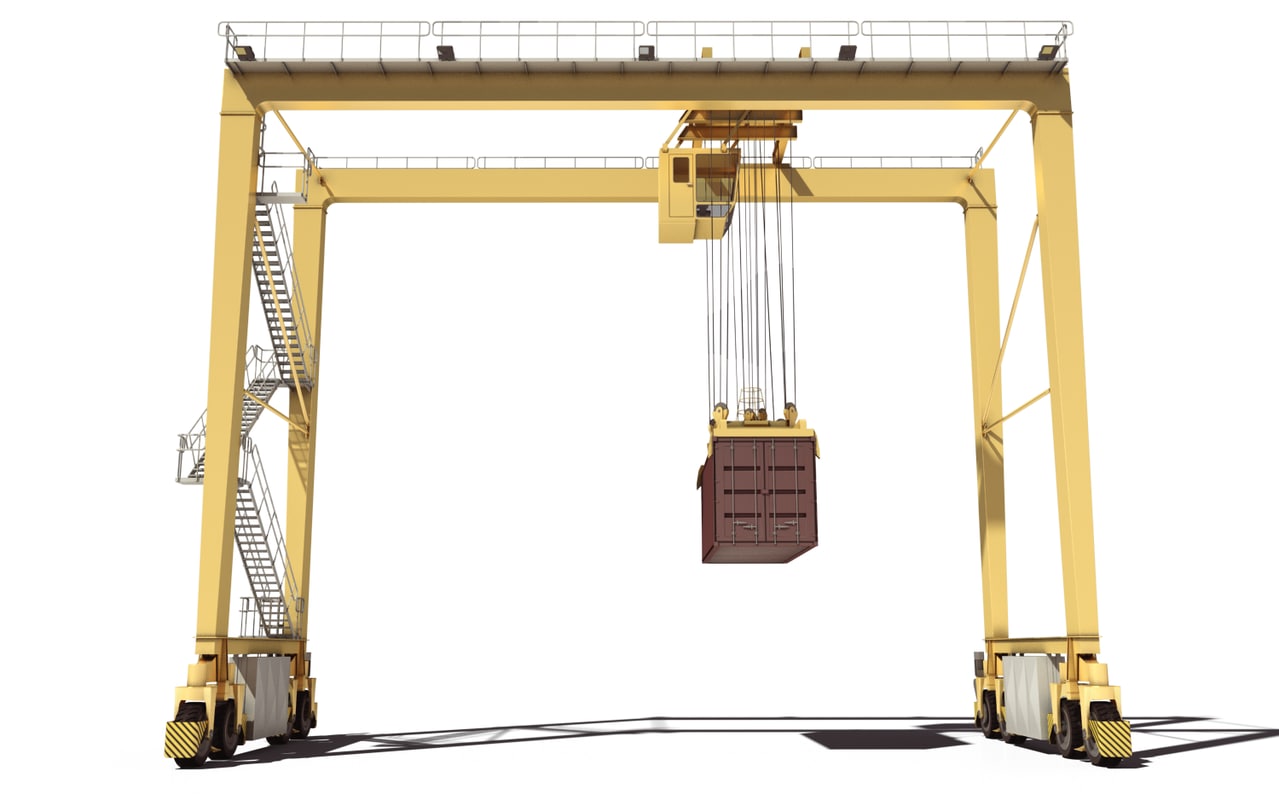 Rubber Tyre Mobile Harbour Port Container Gantry Cranes(RTG) are special equipments to remove, load and unload containers in port. The port crane can run and move in the yard, it has the great feature of high working efficiency and fine maneuverability, also be influenced by unevenness of the ground. RTG is powered by cable drum. At the same time, the most outstanding advantage is that it with diesel generating set for the situation when the power is off or the crane need to move to another yard.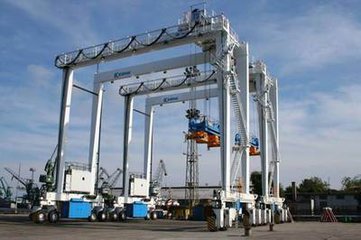 Environmental Conditions:
1,The common power source is three-phase alternating current, rated frequency is 50HZ/60HZ ,rated voltage is 380V. (Special request power is customized)
2,The working environment temperature ranges from -20℃ to +55℃ and the relative humidity is no lower than 95%(with dew).
3,In-service, the wind speed should be no more than 20m/s; out-of-service, the wind speed should be no more than 44m/s.
4,The work duty is A6-A7.
5,The gradient of crane traveling floor should be less than 1% and part of that should be no more than 3%.
Modular design:
According to the general rules of products, components, the Heavy Duty Port Marine Crane STS forms the lifting mechanism module, trolley mechanism module, trolley assembly module, steel structure module, function module, general module and so on. Due to the standard module production can make products with stability quality and shortens the delivery period.
Safety features:
1. With new design: automatic rectify deviation control
2. overload weight limit protection device
3. Good quality buffer
4. Phase protection
5. With lifting limit switch,cross traveling limit switch,long traveling limit switch
6. With function: voltage lower protection
7. Emergency stop system
8. Lighting system
9. Alarm system for audio and video
Note: Most of double girder gantry cranes are customized products, please contact us(ONLYWE Crane) to get the most economical and suitable lifting solution for you.
1. Design according to standards FEM and CMAA70.
2. Crane main girders are made of computer-optimised box sections.
3. End carriages of strong rigid, welded box-section design.
4. Wheel group with adjustable structure.
5.Crane is equipped with frequency conversion Three-In-One mechanism. Crane components with high safety and reliability.
6. Based on different working environment, height limiter, overload limiter, stroke limiter, and other security measures are equipped.
7. For smoothly lifting and exact position of loads, with low-sway travel motions.
8. Ergonomically designed control units make efficient.
9. Lifting capacity: 5~800t, non-standard customized crane can be produced according to clients' needs.
Personalized configuration
Optimum integration into existing and new material storage yards and handing areas.
Control pendant suspended for separate travel on the crane girder.
Radio control with display and push buttons possible (optional).
Optional remote radio control with power and signal transmission.
Features:
l Effectively braking, smoothly moving, long service life.
l Crane spare components with high safety and high reliability.
Crane is controlled by Three-In-One mechanism with frequency conversion can reduce the noise of the equipment.
Design and Construction Rules
All the standards which are required for the cranes are the FEM standard, DIN standard and Chinese National standard.
Europe Main National Standards
-- 89/392/EEC standard (93/68/EEC)
-- 91/368/EEC standard
-- 73/23/CEE standard
-- "EMC" standard 89/336/EEC
-- EN 60204-1
-- EN 292 mechanical safety
-- ISO 2141
-- ISO 2766
International Standards
-- June 9, 1993 / Sept. 22, 1993 notice
-- July 29, 1992, 92-765, 92-766, 92-767 notice
-- DIN 5684
-- DIN 15400; DIN 15401
-- NFE 26-010
-- NFE 26-030
Technical Standards
-- FEM 9.511 Mechanical group
-- FEM 9.661 Hoisting and traveling components size and quality standard
-- FEM 9.671 Wire rope quality standard
-- FEM 9.681 Travel motor choice
-- FEM 9.682 Hoisting motor choice
-- FEM 9.755 Electric hoisting equipment
-- FEM 9.811 Electric crane standard
-- FEM 9.901 Hoisting components design reference
-- IEC 34-1 Traveling and allocation performance
-- IEC 34-5 Protection grade standard
-- IEC 947-5-1 Low voltage equipment
China Main National Standards
Design rules for cranes GB/T 3811-2008
Safety rules for lifting appliances GB 6067-2010
Common crane technical condition GB 7592-87
Crane-Overhead traveling crane and portal bridge crane