Beam Launcher for Concrete Bridge Beam
Beam Launcher Bridge girder erection machine merges an adaptation of a wide range of work, good compact structure, convenient operation, whole crane body with safety steel structure. This product can be used not only in plain construction environment, but also can meet the construction situation of mountain highway slope, Ramp bridge.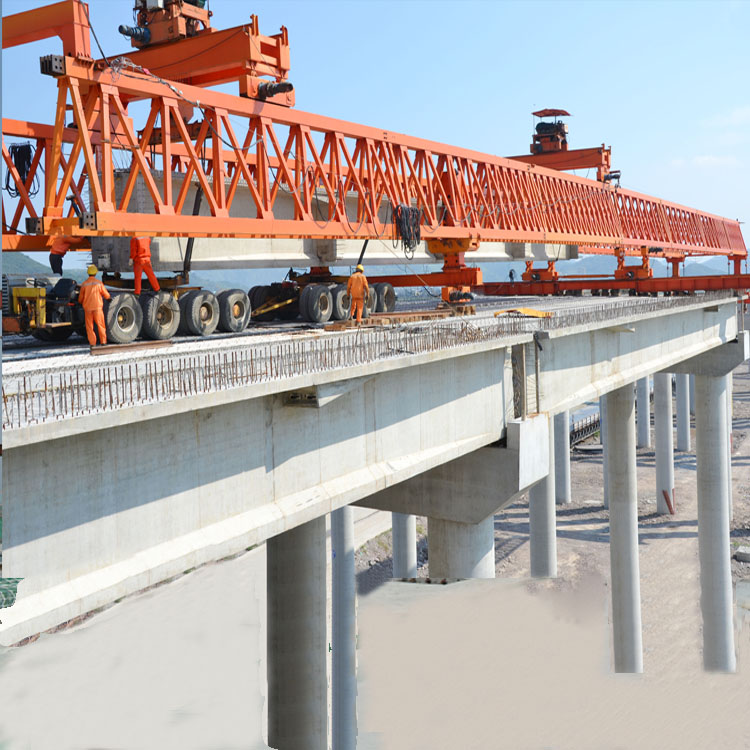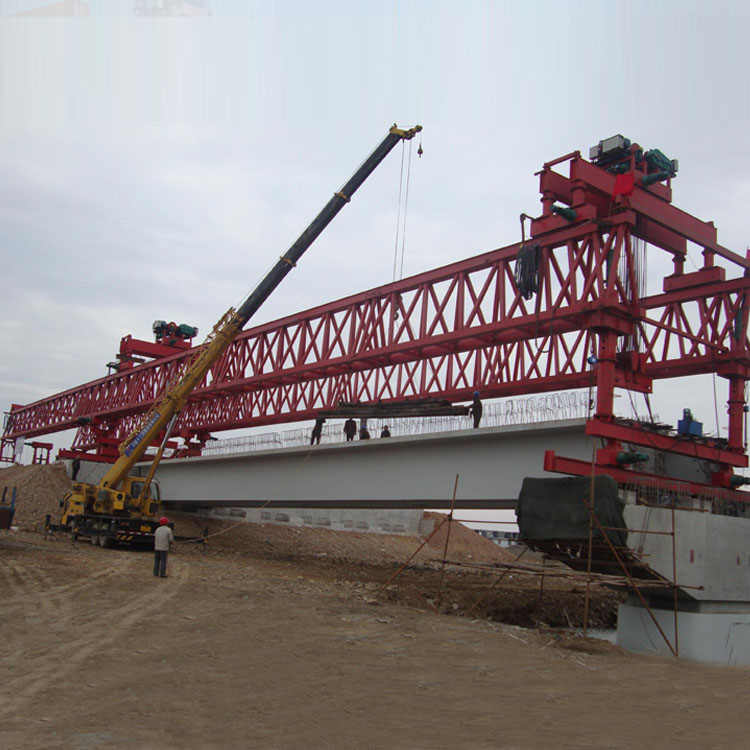 Beam launcher body includes main beam, cantilever, under guide beam, front and rear legs, auxiliary outrigger, hanging beam crane, cantilever structure and hydraulic driving system, with high performance and strong working efficiency.
This type launching crane is well applied in highway and bridge construction site and railway construction site. It can be used for environment of no fire, no explosion and no corrosive media with temperature from -20~55C.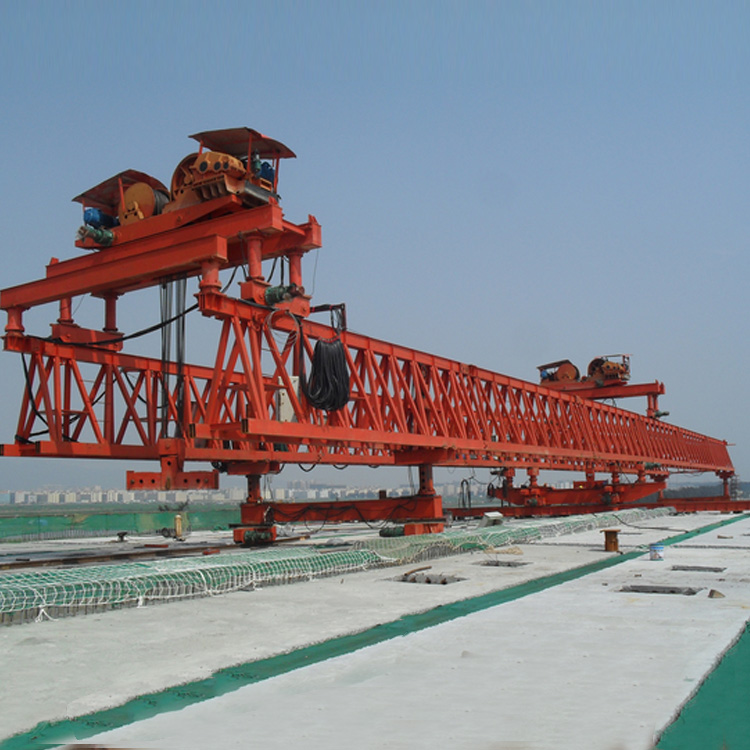 Safety Features
Safety first. .To ensure its safety, below safety devices must be equipped:
▪ Crane traveling limit switch.
▪ Overload protection device.
▪ Lifting height limit device.
▪ Voltage lower protection function device
▪ Phase sequence protection function device
▪ Emergency stop function device
▪ Rain cover for outside hoist, driving units, electric cabinet
▪ Warning indicator : flashing nights and warning sounds device
▪ Wire-less remote detector for anti-collusion.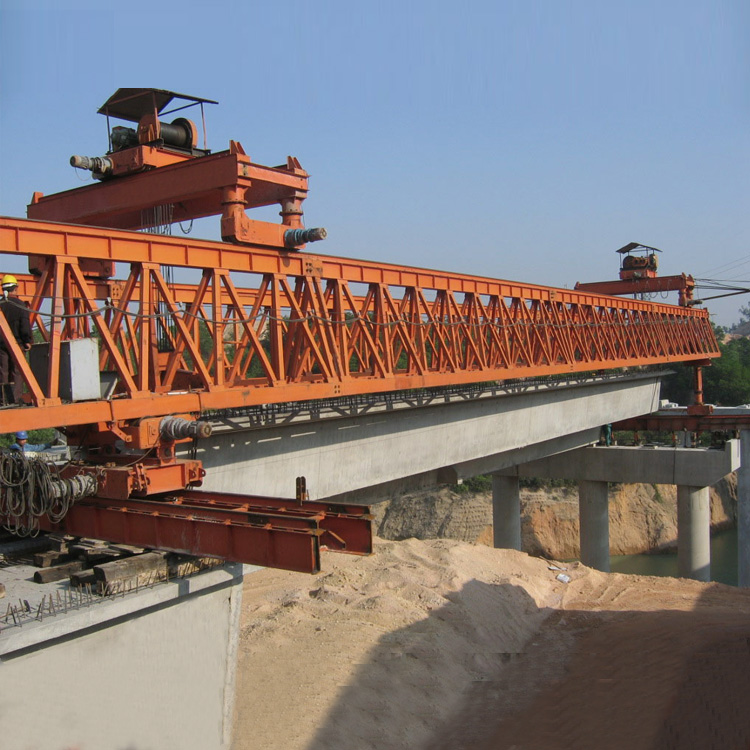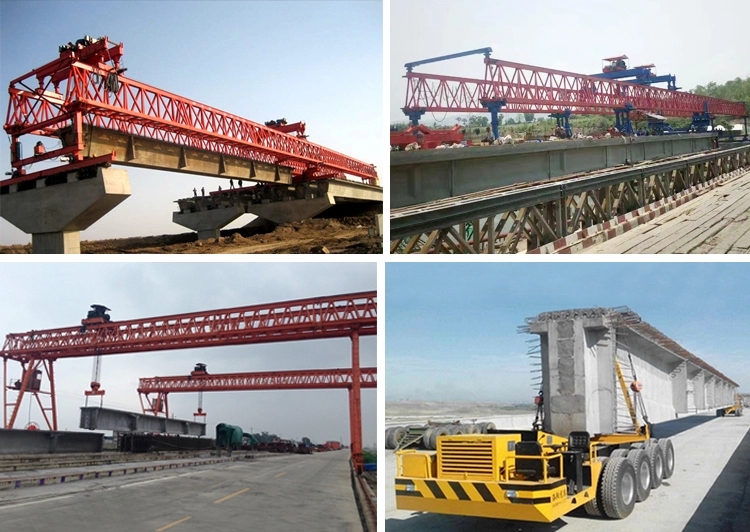 Design and Construction Rules
All the producing standards which are required for the cranes are FEM standard, DIN standard and Chinese National standard.
Europe Main National Standards
-- 89/392/EEC standard (93/68/EEC)
-- 91/368/EEC standard
-- 73/23/CEE standard
-- "EMC" standard 89/336/EEC
-- EN 60204-1
-- EN 292 mechanical safety
-- ISO 2141
-- ISO 2766
International Standards
-- June 9, 1993 / Sept. 22, 1993 notice
-- July 29, 1992, 92-765, 92-766, 92-767 notice
-- DIN 5684
-- DIN 15400; DIN 15401
-- NFE 26-010
-- NFE 26-030
Technical Standards
-- FEM 9.511 Mechanical group
-- FEM 9.661 Hoisting and traveling components size and quality standard
-- FEM 9.671 Wire rope quality standard
-- FEM 9.681 Travel motor choice
-- FEM 9.682 Hoisting motor choice
-- FEM 9.755 Electric hoisting equipment
-- FEM 9.811 Electric crane standard
-- FEM 9.901 Hoisting components design reference
-- IEC 34-1 Traveling and allocation performance
-- IEC 34-5 Protection grade standard
-- IEC 947-5-1 Low voltage equipment
China Main National Standards
Design rules for cranes GB/T 3811-2008
Safety rules for lifting appliances GB 6067-2010
Common crane technical condition GB 7592-87
Crane-Beam launcher for Concrete Bridge Beam