European Double Girder Overhead Crane
HDX Series Single Girder Overhead Crane
Lifting Capacity: 1~100t ( Customized )
Span: 7.5m~35m ( Customized )
Lifting Height:6~100m ( Customized )
Working Class: A5,A6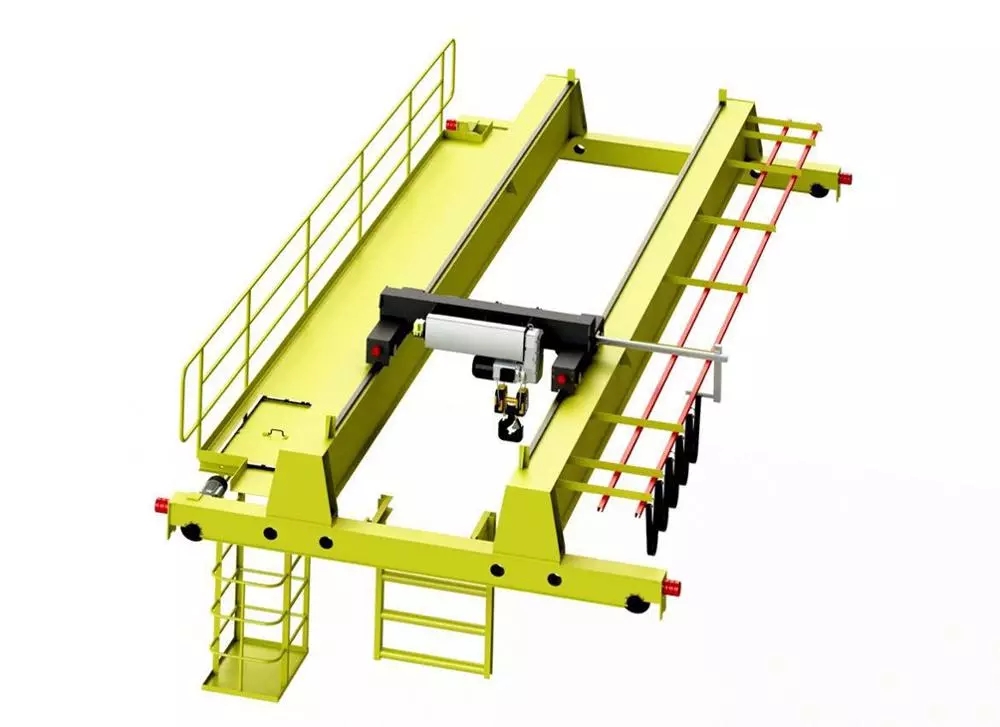 HDX Europe standard double beam overhead crane is our new designed crane for the low workshop and high lifting height requirements. There are many features just like: light weight, strong rigidity, outstanding design of its structure and so on. It could save your workshop space effectively. Its technology is advanced and design is according to international standard: DIN (Germany), FEM (Europe), and ISO (International). Its particular and special travelling structure can be your best choice in lifting demands.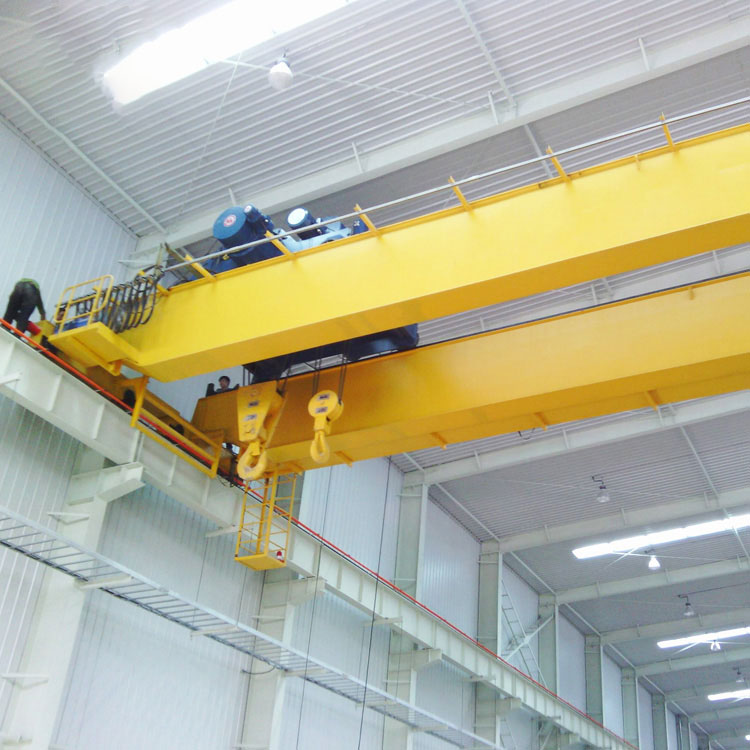 It is an great choice for that have high speed and heavy service requirements. As the lifting equipment, it widely used hoisting machinery, specially is suitable for working at factory,warehouses, freight yard and other conditions. It is strictly prohibited to use the crane in the combustible, explosive or corrosive environment.
High lifting capacity of this type European bridge crane is designed with two hooks that means two independent sets of hoisting mechanism. The main hook is used to lift heavy goods and the auxiliary used to lift light goods. In addition, the auxiliary can also be used for collaborative main hook in handling materials according to real needs. However, forbid using the two hooks to lift at the same time when goods weight is over the auxiliary rated lifting capacity.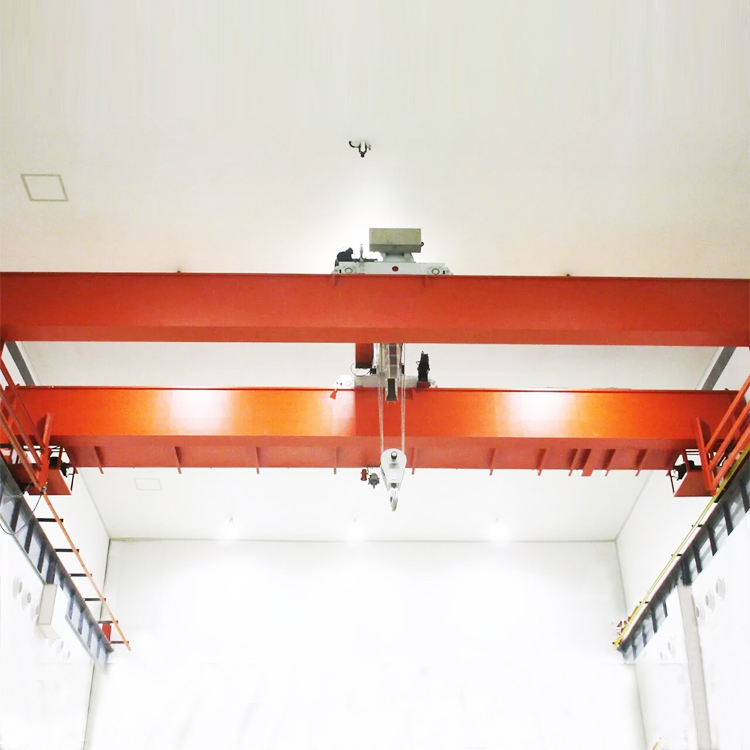 Features:
1. Low Headroom and compact structure
2. Soft-start Motor, lower impact force.
3. Good efficiency and make energy saving.
4. Convenient for installation and maintenance
5. Lower maintenance cost can save cost
6. Nice performance trolley and nice appearance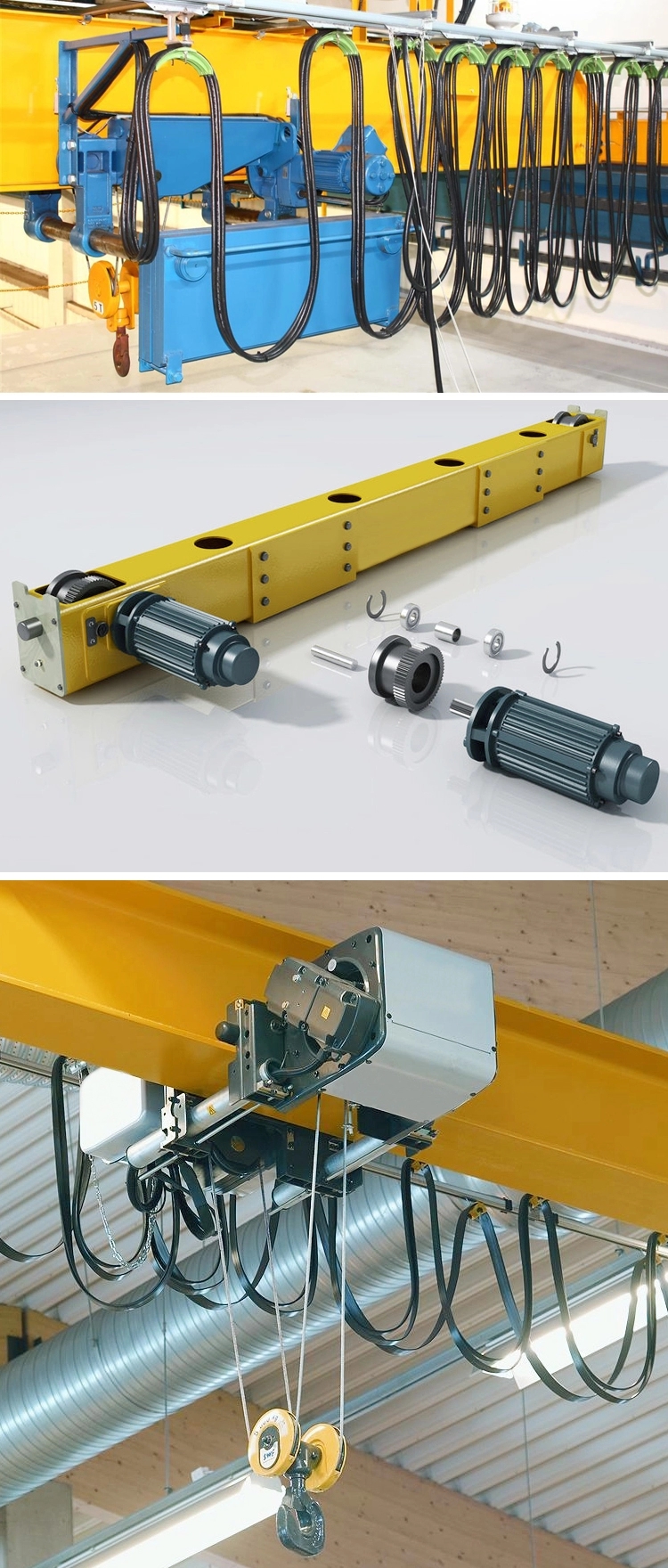 Design and Construction Rules
All the standards which are required for the cranes are the FEM standard, DIN standard and Chinese National standard.
Europe Main National Standards
-- 89/392/EEC standard (93/68/EEC)
-- 91/368/EEC standard
-- 73/23/CEE standard
-- "EMC" standard 89/336/EEC
-- EN 60204-1
-- EN 292 mechanical safety
-- ISO 2141
-- ISO 2766
International Standards
-- June 9, 1993 / Sept. 22, 1993 notice
-- July 29, 1992, 92-765, 92-766, 92-767 notice
-- DIN 5684
-- DIN 15400; DIN 15401
-- NFE 26-010
-- NFE 26-030
Technical Standards
-- FEM 9.511 Mechanical group
-- FEM 9.661 Hoisting and traveling components size and quality standard
-- FEM 9.671 Wire rope quality standard/Chains quality standard.
-- FEM 9.681 Travel motor choice
-- FEM 9.682 Hoisting motor choice
-- FEM 9.755 Electric hoisting equipment
-- FEM 9.811 Electric crane standard
-- FEM 9.901 Hoisting components design reference
-- IEC 34-1 Traveling and allocation performance
-- IEC 34-5 Protection grade standard
-- IEC 947-5-1 Low voltage equipment
China Main National Standards
Design rules for cranes GB/T 3811-2008
Safety rules for lifting appliances GB 6067-2010
Common crane technical condition GB 7592-87
Crane-European overhead traveling crane and portal bridge crane