European Electric Wire Rope Hoist
CHC Series Low Headroom Wire Rope Electric Hoist
Lifting capacity: 1T~ 100T(Customized)(for single girder or double girder cranes).
Lifting height 3m~600m(Customized)
Working class: M3-M8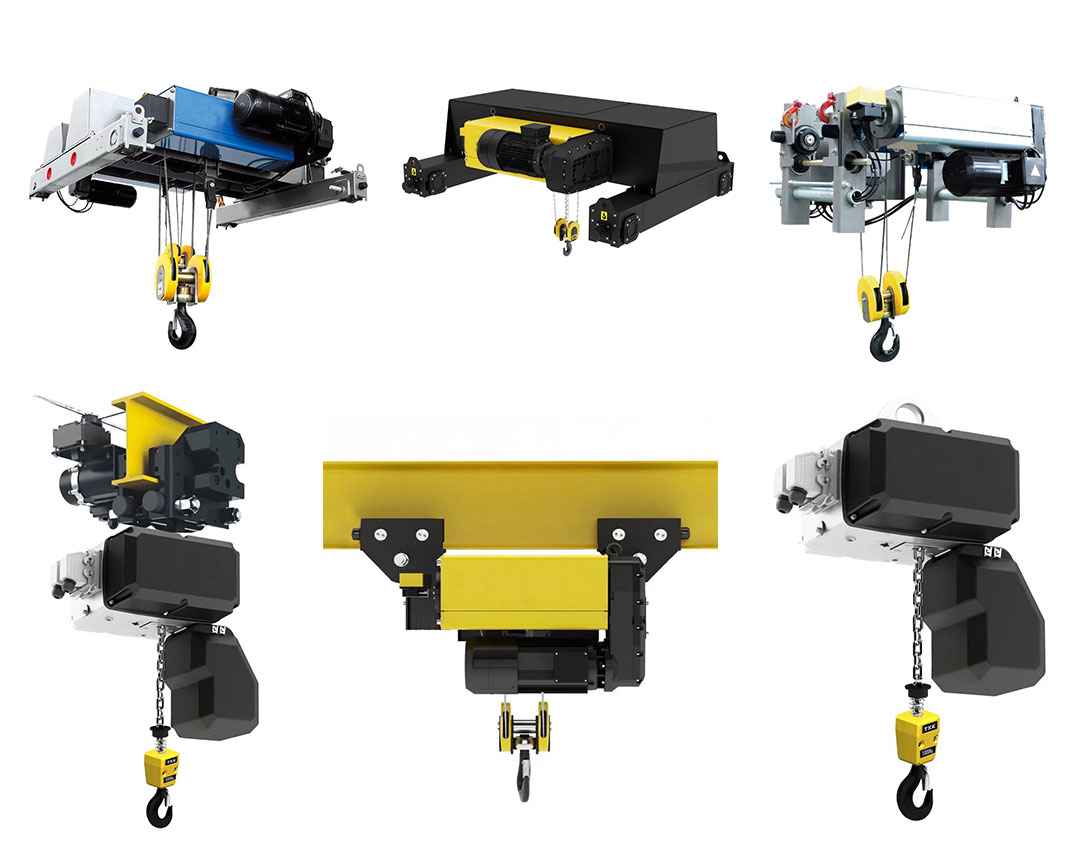 We can provide optional features based on clients' different requirements, such as lifting height, different lifting speed, adapting different girder type, customized hook, anti-sway, dual-brake ,load display and so on.
You can tell us the optional features according to your needs. We help you lift the way you want it.
Overview
CHC Series Low Headroom Wire Rope Electric Hoist ( for single girder or double girder crane).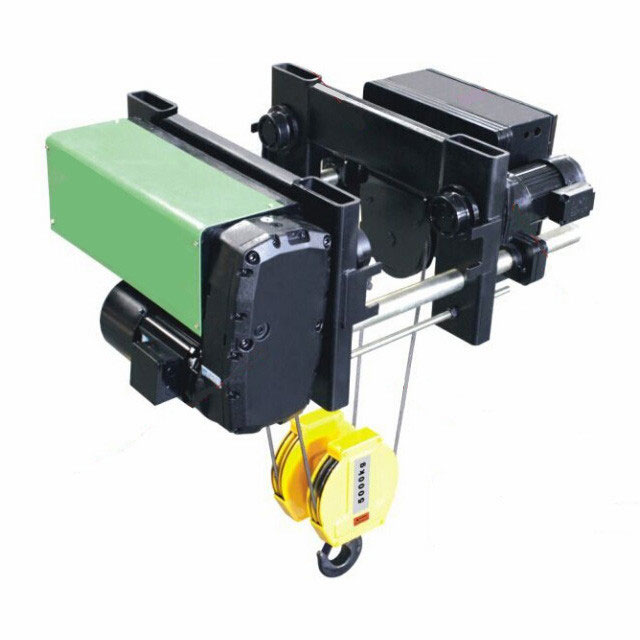 Lifting Capacity: 1-100t Lifting height 3m~600m(Customized)
Working class: M3-M8
1.With Three-in-One structure, reliable operation and small body.
2. Low energy consumption and large output torque.
3.The electromagnetic brake can adjust itself automatically with high precision.
4.The steel wire rope with good features: high strength and good flexibility.
5.High strength nylon rope guide and pulley, it helps to achieve a longer service life of the steel wire rope.
6.Alloy wheel group with high strength with long service life.
7.Modular design to realize the flexible combination.
8.The maximum lifting weight of the single-beam is 32 t, the maximum lifting capacity of the double-beam can reach to 100 t.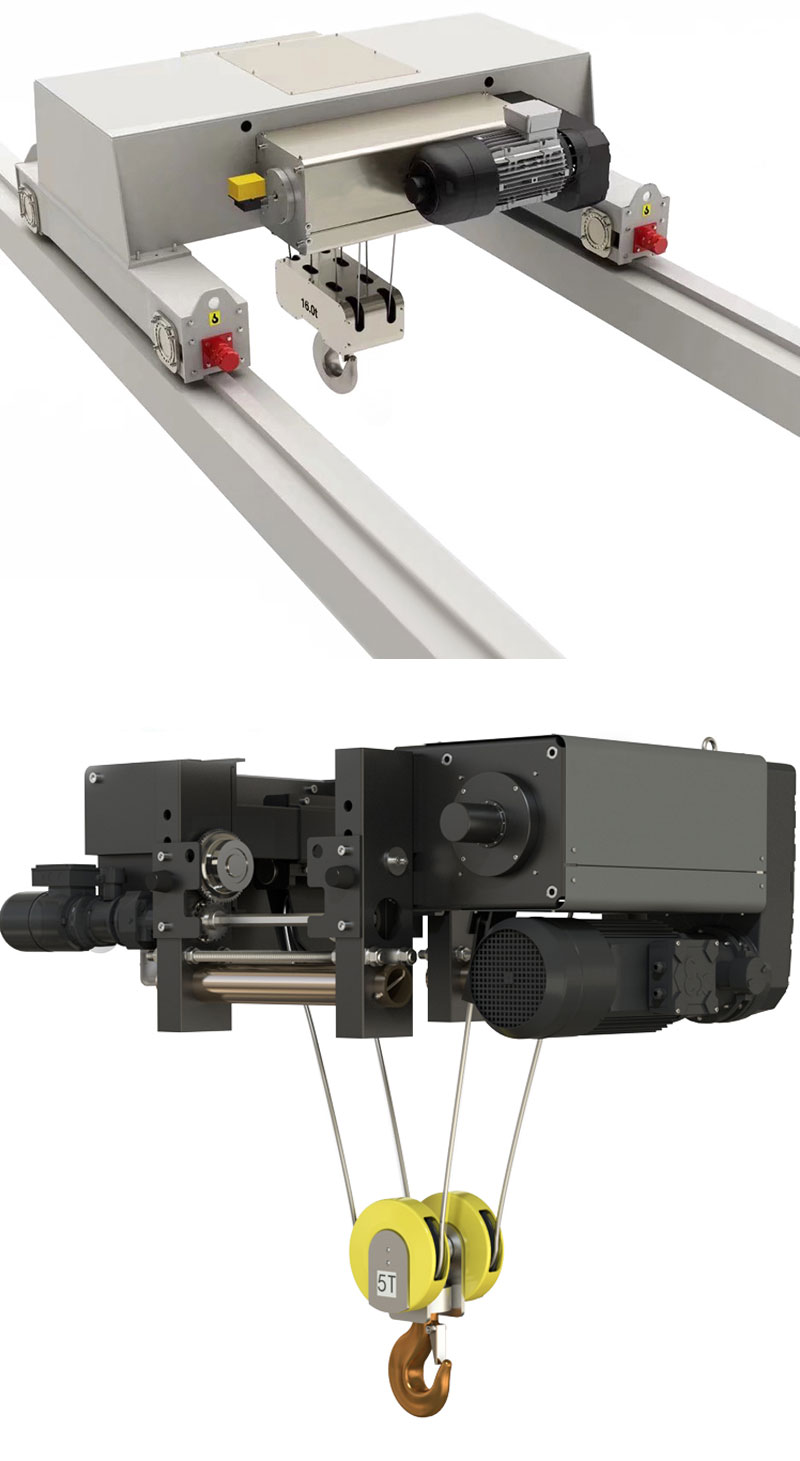 Detailed configuration list

Features:
l Optional radio control with push buttons.
Optional radio control with power and signal transmission.
l Smoothly moving, long service life, effectively braking.
l Electric hoist spare parts offering high safety and reliability.
l Hoist is equipped with frequency conversion Three-In-One mechanism.
Range of application
Steel production, Machine processing, material storage or any other lifting and handling conditions.
Options:
1. Girder width of single-beam crane: 550-690mm. Wheel width of double-girder crane can be customized (not bigger than 15% of the standard wheel width).
2. Double girder track gauge (1400-1700-2000-2400-2700-3100-3400-3800). The gauge can be customized according to clients' need and it influences the price.
3. Standard headroom hoist trolley for single girder crane is move left and right.
4. Cross travel is controlled by variable frequency.
5. Pendant control is made in Schneider Czech Factory with 8 buttons or 12 buttons.
6. Big display of lifting load is available and be installed on main beams or end beams to show the lifting weight.
7. Processing ways under the environment of outdoor or humid: (1. Heating. 2. Stainless steel electric cabinet. 3. Stainless steel hoist shell.)
8. Hoists' hook size can be customized according to customer's requirements.
9. Double brake for hoisting is equipped.
10.With frequency converting control.
11. Frequency converter can be Schneider Brand.
12. Hoisting can travelling and have inching function.
13. Standard control voltage is 48V, but 24V, 360V or 110V can be customized according to customers' requirement.
14. Electric hoists for monorail crane shall be standard headroom hoist.
Onlywe crane CHC series wire rope Electric Hoists are equipment with high handling rates, cost-effective operation and more safety. We provide the optimum solution to meet our customers' special requirements.
Design and Construction Rules
All the standards which are required for the Hoist are the FEM standard, DIN standard and Chinese National standard.
Europe Main National Standards
-- 89/392/EEC standard (93/68/EEC)
-- 91/368/EEC standard
-- 73/23/CEE standard
-- "EMC" standard 89/336/EEC
-- EN 60204-1
-- EN 292 mechanical safety
-- ISO 2141
-- ISO 2766
International Standards
-- June 9, 1993 / Sept. 22, 1993 notice
-- July 29, 1992, 92-765, 92-766, 92-767 notice
-- DIN 5684
-- DIN 15400; DIN 15401
-- NFE 26-010
-- NFE 26-030
Technical Standards
-- FEM 9.511 Mechanical group
-- FEM 9.661 Hoisting and traveling components size and quality standard
-- FEM 9.671 Wire rope quality standard/Chains quality standard.
-- FEM 9.681 Travel motor choice
-- FEM 9.682 Hoisting motor choice
-- FEM 9.755 Electric hoisting equipment
-- FEM 9.811 Electric crane standard
-- FEM 9.901 Hoisting components design reference
-- IEC 34-1 Traveling and allocation performance
-- IEC 34-5 Protection grade standard
-- IEC 947-5-1 Low voltage equipment
China Main National Standards
Design rules for cranes GB/T 3811-2008
Safety rules for lifting appliances GB 6067-2010
Common crane technical condition GB 7592-87
Electric Chain Hoist-Electric Wire Rope Hoist