Boat Hoisting Crane
Mobile Boat Hoist Crane
Lifting Capacity: 5~800t ( Customized )
Span: 7.5m~35m ( Customized )
Lifting Height:6~100m ( Customized )
Working Class: A5,A6
MBH Mobile Boat Hoist Crane: lifting capacity is up to 800 tons, crane span and lifting height can be customized according to clients exact requirements.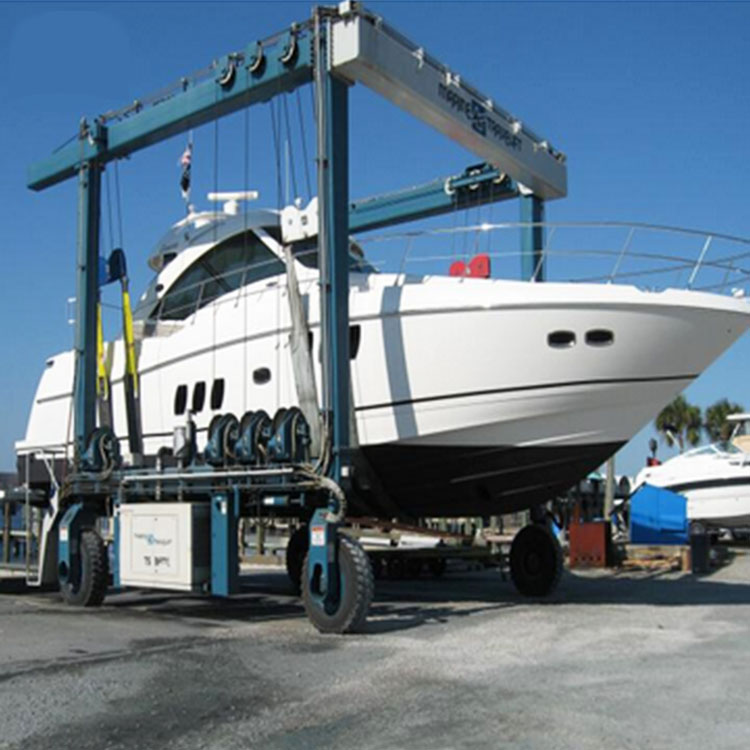 Overview
Mobile Boat Hoist Crane it including: main structure, traveling wheel block, hoisting mechanism system, steering mechanism, hydraulic transmission system, electric control system. It can transfer the boat which the height surpass its height. Based on different needs of clients, the Boat Hoist Crane can handling different tons boat or yacht (5T-800T) from the shore side, it can be widely used for the maintenance in the environment of the shore side or also can put the new boat into the water. It equipped the soft and firm belt to lift the boat, yacht and the belt can not hurt the surface. It also with functions that can put the boat in a order quickly and the gap between each two boats is small.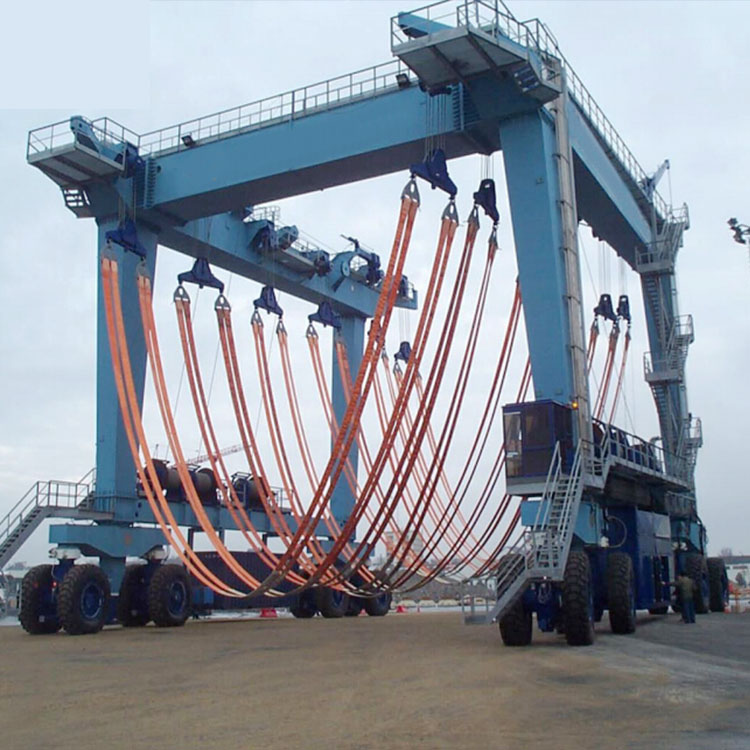 Main characteristic of the product
-- It is flexible for the crane traveling, can put the boat in any designated position according to needs.
--The width of the main girder can be adjusted, according to different boat.
--With performance of low cost, high performance, easy to maintenance.
--Equip with soft belt can make no harm to the boat when hoisting.
--With adjusted function can make the boat in order quickly, and make the gap between each boat is small.
Product details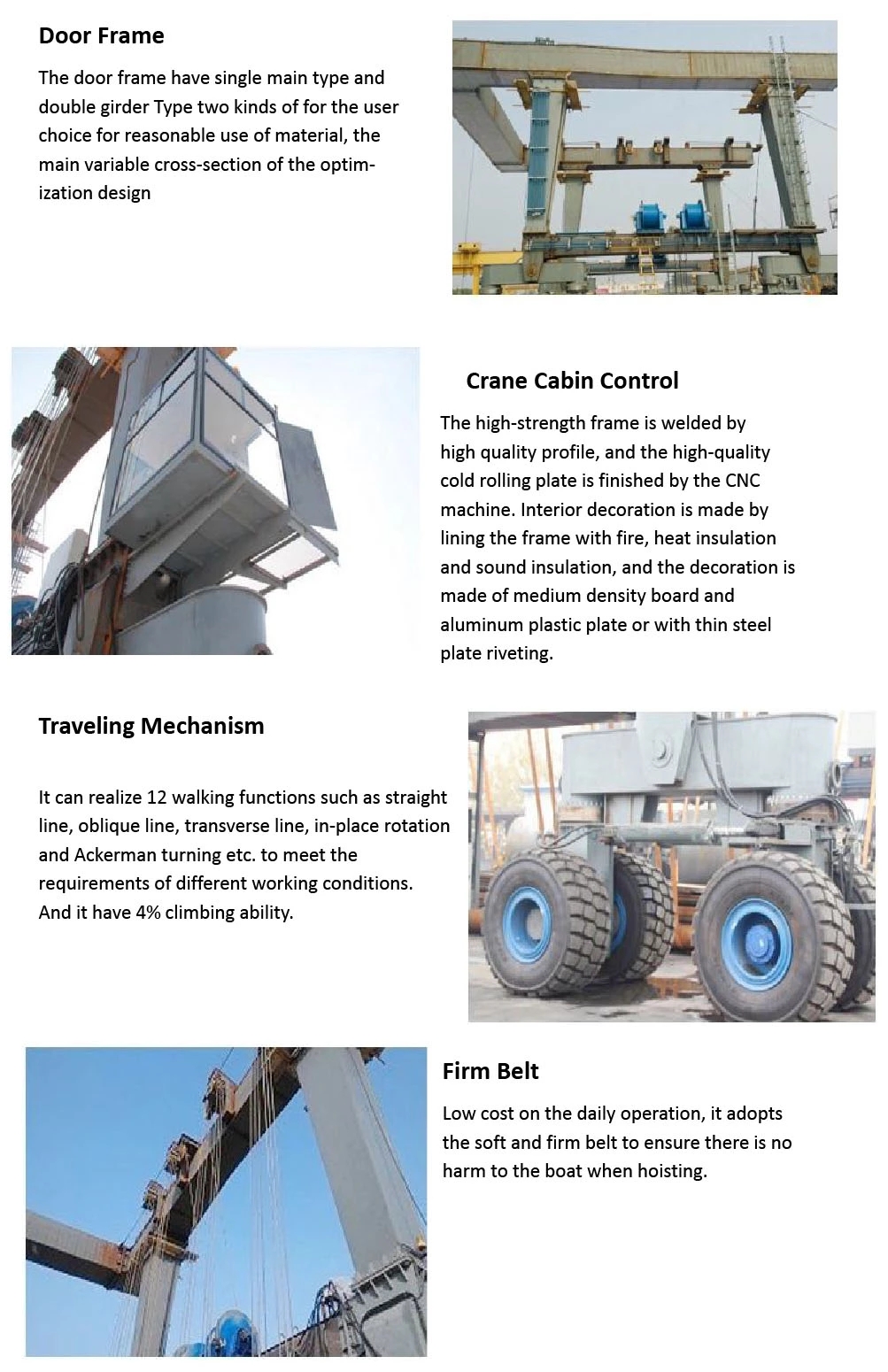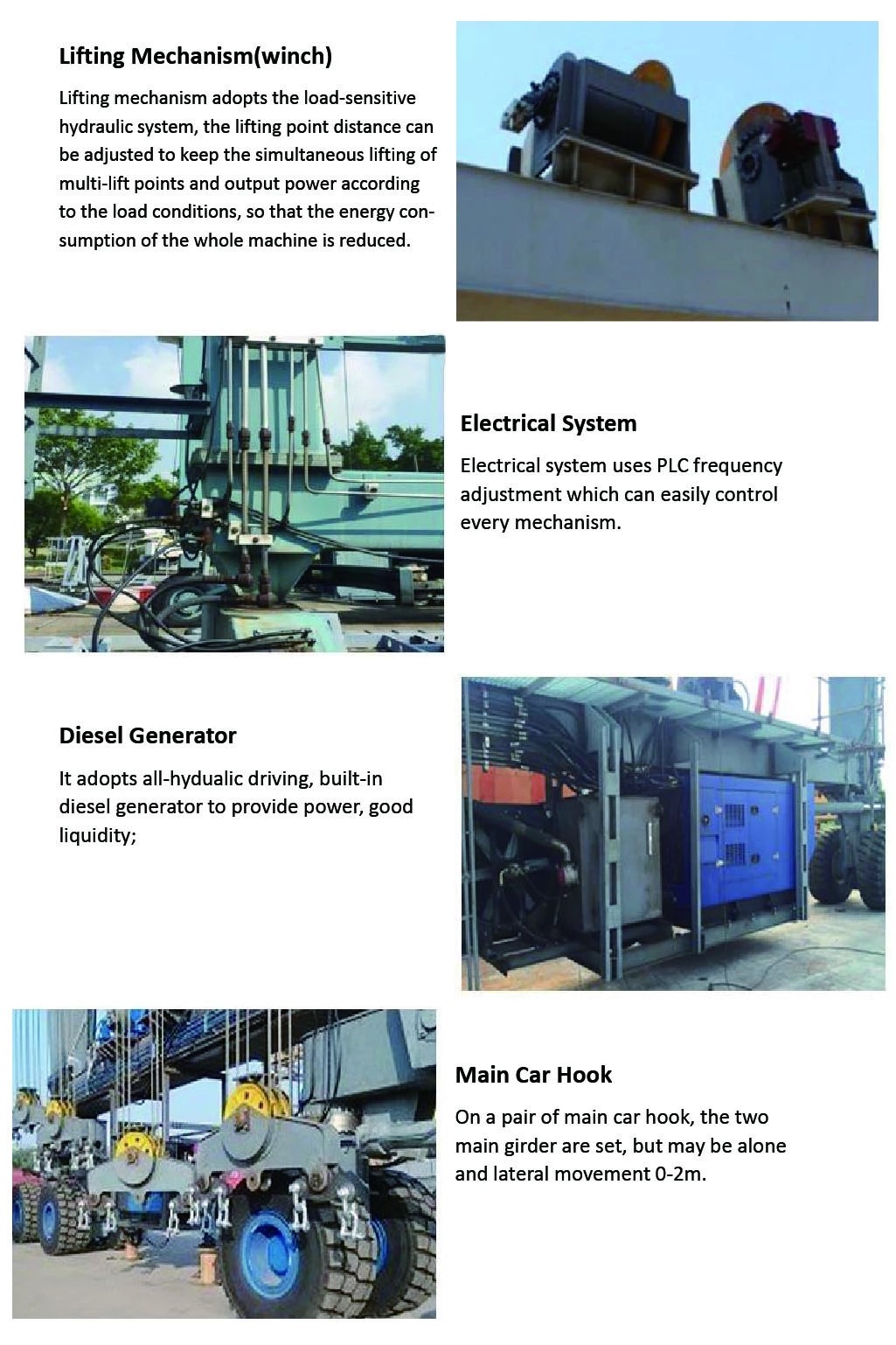 Design and Construction Rules
All the standards which are required for the cranes are the FEM standard, DIN standard and Chinese National standard.
Europe Main National Standards
-- 89/392/EEC standard (93/68/EEC)
-- 91/368/EEC standard
-- 73/23/CEE standard
-- "EMC" standard 89/336/EEC
-- EN 60204-1
-- EN 292 mechanical safety
-- ISO 2141
-- ISO 2766
International Standards
-- June 9, 1993 / Sept. 22, 1993 notice
-- July 29, 1992, 92-765, 92-766, 92-767 notice
-- DIN 5684
-- DIN 15400; DIN 15401
-- NFE 26-010
-- NFE 26-030
Technical Standards
-- FEM 9.511 Mechanical group
-- FEM 9.661 Hoisting and traveling components size and quality standard
-- FEM 9.671 Wire rope quality standard
-- FEM 9.681 Travel motor choice
-- FEM 9.682 Hoisting motor choice
-- FEM 9.755 Electric hoisting equipment
-- FEM 9.811 Electric crane standard
-- FEM 9.901 Hoisting components design reference
-- IEC 34-1 Traveling and allocation performance
-- IEC 34-5 Protection grade standard
-- IEC 947-5-1 Low voltage equipment
China Main National Standards
Design rules for cranes GB/T 3811-2008
Safety rules for lifting appliances GB 6067-2010
Common crane technical condition GB 7592-87
Crane- MBH Mobile Boat Hoist crane