Marine Crane
Heavy Duty Port Marine Crane STS
Lifting Capacity: 5~800t ( Customized )
Span: 7.5m~35m ( Customized )
Lifting Height:6~100m ( Customized )
Working Class: A5,A6, A7, A8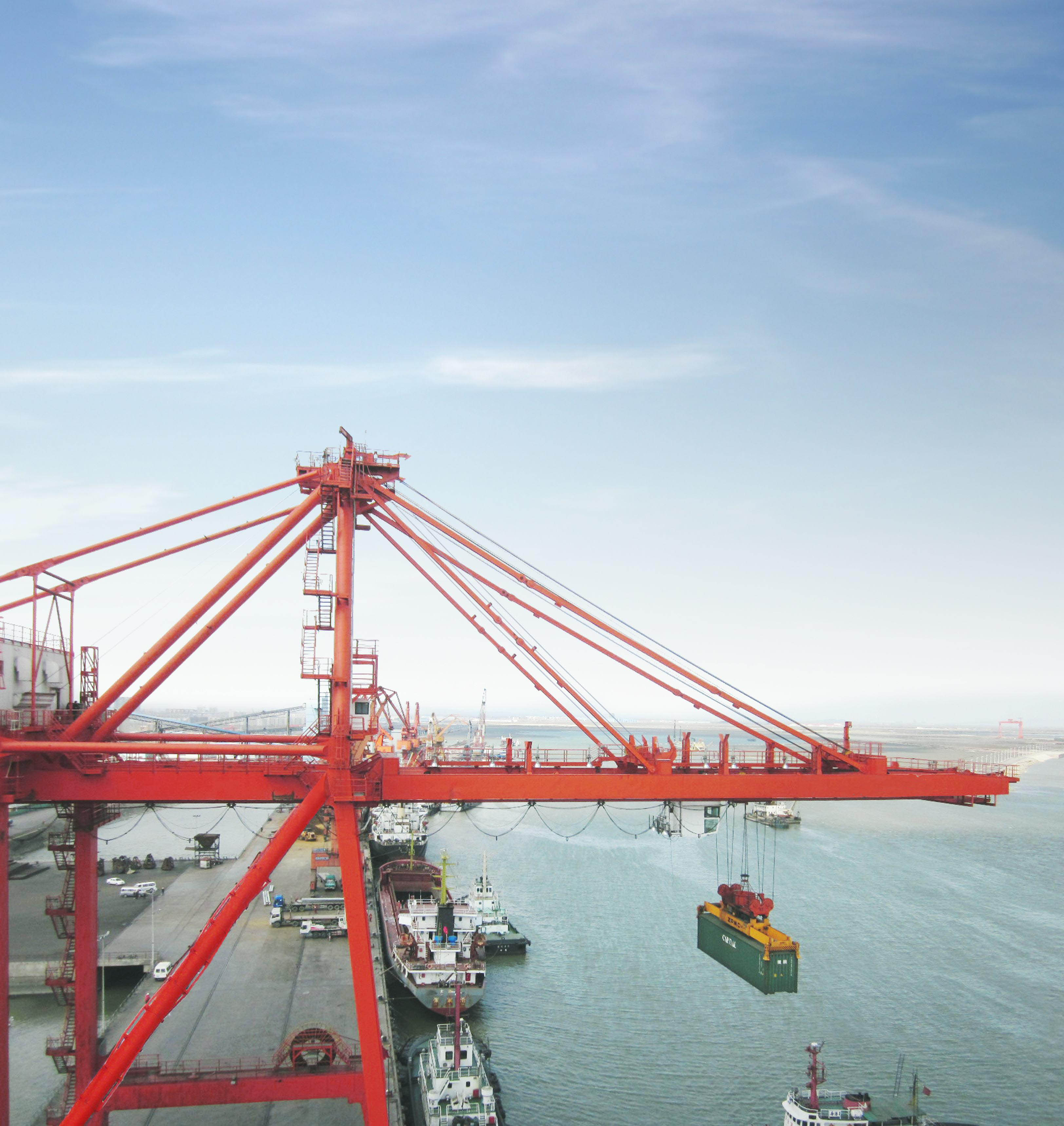 Brief Introduction:
STS, the heavy duty Ship To Shore Container crane is widely used to load and unload containers from ship or trucks. The crane can work with a good efficiency due to the crane frame design is very advanced.The quickly moving speed and lifting speed can make great working performance.
Structure Introduction:
1. the lifting mechanism
2. the trolley travelling mechanism
3. the rail travelling mechanism
4.luffing mechanism
5.Travel mechanism
6. Cabin
7.Elevator
8.Spray system
9.Electrical system
Referenced standards:
1.GB3811-2008 crane design criterion
2.GB6067-85 lifting equipment safety regulation
3.ISO standards
4.FEM standards
5.JIS standards
Use of STS Crane:
It has various applications site, such as loading and unloading at port, materials handing at dockyard, ship building and ship repairing yard and so on.
Advantages of STS Crane:
1.Improve the efficiency about operation of loading and unloading.
2. With compact frame(structure).
3. Calm movement, comfortable operation, safety and reliable.
4.Convenience maintenance.
5.Crane drive: IP54 or IP44, level F insulation.
6. Mainly used for the port lifting.
7. Designed based on clients' demands.
Environmental Conditions:
1,The common power source is three-phase alternating current, rated frequency is 50HZ/60HZ ,rated voltage is 380V. (Special request power is customized)
2,The working environment temperature ranges from -20℃ to +55℃ and the relative humidity is no lower than 95%(with dew).
3,In-service, the wind speed should be no more than 20m/s; out-of-service, the wind speed should be no more than 44m/s.
4,The work duty is A6-A7.
5,The gradient of crane traveling floor should be less than 1% and part of that should be no more than 3%.
Modular design:
According to the general rules of products, components, the Heavy Duty Port Marine Crane STS forms the lifting mechanism module, trolley mechanism module, trolley assembly module, steel structure module, function module, general module and so on. Due to the standard module production can make products with stability quality and shortens the delivery period.
Safety features:
1. With new design: automatic rectify deviation control
2. overload weight limit protection device
3. Good quality buffer
4. Phase protection
5. With lifting limit switch,cross traveling limit switch,long traveling limit switch
6. With function: voltage lower protection
7. Emergency stop system
8. Lighting system
9. Alarm system for audio and video
Design and Construction Rules
All the standards which are required for the cranes are the FEM standard, DIN standard and Chinese National standard.
Europe Main National Standards
-- 89/392/EEC standard (93/68/EEC)
-- 91/368/EEC standard
-- 73/23/CEE standard
-- "EMC" standard 89/336/EEC
-- EN 60204-1
-- EN 292 mechanical safety
-- ISO 2141
-- ISO 2766
International Standards
-- June 9, 1993 / Sept. 22, 1993 notice
-- July 29, 1992, 92-765, 92-766, 92-767 notice
-- DIN 5684
-- DIN 15400; DIN 15401
-- NFE 26-010
-- NFE 26-030
Technical Standards
-- FEM 9.511 Mechanical group
-- FEM 9.661 Hoisting and traveling components size and quality standard
-- FEM 9.671 Wire rope quality standard
-- FEM 9.681 Travel motor choice
-- FEM 9.682 Hoisting motor choice
-- FEM 9.755 Electric hoisting equipment
-- FEM 9.811 Electric crane standard
-- FEM 9.901 Hoisting components design reference
-- IEC 34-1 Traveling and allocation performance
-- IEC 34-5 Protection grade standard
-- IEC 947-5-1 Low voltage equipment
China Main National Standards
Design rules for cranes GB/T 3811-2008
Safety rules for lifting appliances GB 6067-2010
Common crane technical condition GB 7592-87
Crane-Overhead traveling crane and portal bridge crane